Thanks for dropping in for the Blog Hop
You should be coming form
Nanette (
http://www.scrap-4-kids.com/
)
If you arrived here by accident and want to join us go to the beinning of the Blog Hop
here
. This will give you all the info about the Blog Hop and tell all about the cool prizes you could win!
This is the sketch that the Sketch Crew had to work with:
And here is my LO. It is my son's feet at the Sanibel Island Beach on the gulf coast of Florida. I used this piece of weaved mat on my LO. to add some texture. I thought it looked like a towel.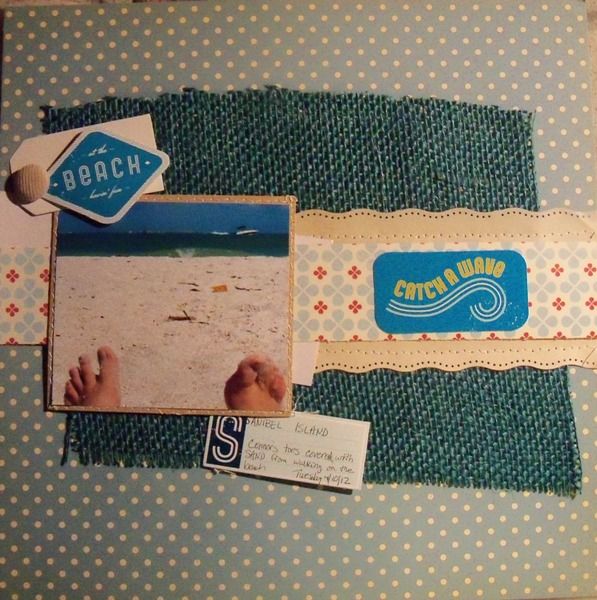 My challenge to you is to create a LO using something that is not paper as part of your background for a loyout or a card and to become a follower of my blog.
I will be giving out my own RAK to one random person that does both.
You have until Monday, February 10th at 11:59 PM EST to complete this challenge and upload to this forum challenge thread here.
I am looking forward to see what you crafty ladies come up with!
Now onward with the Blog Hop. Your next stop is to Jowilna
In case you get lost along the way you can go back to the begining of the SBC Blog Hop at:
SBC (
http://scrapbookchallenges.com/sbc-blog/
)
Here is a look at the PRIZES:
Prizes:Hop On Prize - This is for one person who complete a layout a based on the sketch and links up in the hop on area of the forum.
New Member Prize - Given to one randomly selected new member who joins the site over the course of the weekend.
Instagram Tag & Win - A small prize given out to one follower and an additional IG user they tag.